T
riton Logistics is a transportation company specialising in air, sea and land transport as well as ship, liner and yacht agency services. An IATA-accredited agency, Triton Logistics guarantees a flexible service, expert coordination and outstanding punctuality.
A multitude of options are available for transporting your goods by land at competitive prices. Wherever you are, Triton Logistics' fleet will manage the movement of your cargo. We also provide specialised services for pharmaceuticals, dangerous goods and valuables. In 2011 Triton Logistics partnered with Mammoet, a leader in the transportation of oversized cargo, to handle the largest cargo ever transported to Malta: 6 LPG bullet storage tanks, 43 metres in length and 9.5 metres in width.
Triton Logistics is a Non-Vessel Operating Common Carrier (NVOCC) so rather than being tied to specific ocean carriers the setup allows for elasticity in the choice of freight through vast networks and healthy relationships in the sector.
When it comes to partial shipments, Triton Logistics ensures your shipment is in transit the moment it is ready. We do this by quickly finding available space on containers or by combining your freight with other loads heading in the same direction, saving you time and money. Your less-than-container-load (LCL) shipments will not just be placed in transit on schedule; they will also be coordinated by our global ocean experts from origin to delivery.
With Triton Logistics' airfreight service you can rely on dedicated specialists who will expertly coordinate your shipments from booking to door delivery. Our professional team will readily help you choose the best options in expedited, consolidated or deferred flights, whilst keeping you posted about the freight's journey.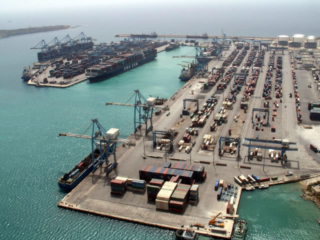 Customs brokerage & storage
With 28 years of experience in the business, Triton Logistics has revolutionised the whole spectrum of air, sea and parcel post shipments. Indeed Triton Logistics was established in response to a gap in the import and export market to aid importers and exporters in their logistics operations. We specialise in valuable and hazardous cargo and human remains.
Triton Logistics offers the most reliable round-the-clock service in its field. Our core activities include customs documentation and clearance; transport and distribution; haulage and lifting service; trans-shipments; packing and labelling; security transport for valuables; refrigerated transport; warehousing and storage.
With 800 m2 of indoor/outdoor storage space, we offer flexible long- and short-term contracts, palletising, shrink-wrapping and re-labelling services, container re- and de-stuffing solutions and distribution of goods both locally and overseas. Our pick-and-pack service is ideal for customers wishing to break down pallets and distribute box or case quantities.
Ship, liner and yacht agency
Big names in the shipping industry as well as a steady flow of yachts are drawn to Malta's harbours due to the island's strategic geographical position. Triton Logistics' competent and authorised personnel provide a complete range of services to ship and yacht owners which include agency and representation; berth booking; crew changes and immigration formalities; medical and technical assistance; salvage and towage; ship and yacht registration; repairs and offshore service.